These questions were developed out of the understanding that having the full 54 pages of AGA Standards in front of most people would be utterly useless. See them here to understand their complexity: www.americangap.org/2013_AGA_Standards.pdf. So, we created these 20 Questions as a way to help the individual navigate their own program. These may be for the more intrepid and independent traveler – someone who's already done their fair share of traveling: a veteran sojourner. Or, perhaps these might be appropriate for someone who's truly on a budget and the scholarships and financial aid available to them through another program isn't sufficient. Obviously, the full 54 pages of Standards make great sense for an AGA organization to run through – ensuring the best quality and safety in an organized program. But not every student will want to do one of our accredited programs. http://www.americangap.org/assets/20_Questions.pdf
---
Q12: What Will My Living Situation Be Like?
Once you've made it to your destination (after a smooth experience with transportation in your host country), you are inevitably introduced to your living quarters.  Before this point, however, hopefully you've asked what exactly this will look like! Depending on where you are going, this could range from very basic to somewhat like a hostel to camping. Before you get there, be sure to ask the organization for as many details concerning your living space as possible, as you will spend a large (and important part) of your time here.
If you know you enjoy the company of other students and would want to share a room to add to the experience, be as honest with your Gap Year program as possible so they can help you plan for the right fit. If you know that space is important for you, and that you may need more than others, again, be upfront. The more clear and honest you are about what you need/want from your Gap Year program, the easier it will be for the organizers to plan with you and help you prepare for what will be an awesome experience.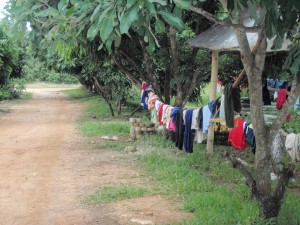 No doubt, some of the accommodations you may be hoping for won't be realistic for the area that you're traveling so being flexible about certain things: hot water, shared bathroom, bed that isn't lumpy, etc, will be necessary. It is up to you to weigh how important such things are compared to the kind of experience you wish to have. One thing, however, that you should never be flexible about is your safety. Besides ensuring that the supervisor(s) in your program will be able to adequately assist you during your program, you should also be absolutely sure they are aware and have been (or someone in the program has recently been) in the area to evaluate the living situation for safety. Imagine you have a bad situation at your homestay because you have something go missing: your program should be able to offer you support to either get transition to a new homestay, or to learn how to navigate the situation with respect to cultural norms, local relationships, etc.  Being branded a thief in a small community can be devastating especially if something is really just a miscommunication.  Indeed, part of living abroad, even if it's only for a couple of months, is learning how to take responsibility for yourself and learn a sense of ownership for your well-being and how that effects your peers/community. Conflicts can range from petty disagreements, to very serious, so if it's a situation you can handle on your own you should talk to the person/homestay directly. That being said, some arguments can only be resolved by a third party, so make sure that kind of support is available to you in case those measures don't properly pan out.
TRUE STORY:
I went to Thailand with a group of eight people, and we worked for an organization in a small village that housed and provided basic needs for kinds in the surrounding areas. It served as a school/home/place to be safe/farm/etc for the youth in the area. Our project was to build them a fitness center, complete with bars, a gym, and a full playground to give them something to do that would keep them from getting into trouble. Our house was two miles from the project site, in a cabin overlooking the dense, Thai jungle. There were four rooms and eight of us, so we partnered up. The rooms were very basic: small, hardwood floors, windows with holes in the screens, and a box fan for the evening as it got kind of hot. There was only one, full-sized bed, so we had to share. Since it was fall in southeast Asia, the mosquitoes were out, and Dengue Fever was something we all definitely wanted to avoid, so we brought mosquito coils from the states to burn during the night.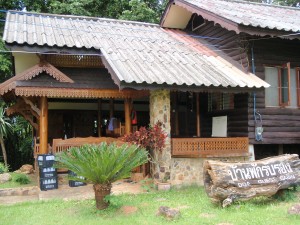 Overall it was a very pleasant experience. It wasn't the Hyatt, but none of us were expecting that, so we made do with what we had. The showers were located outside, so we all had to run about in our towels, and drinking water we either had to bring or buy, but it wasn't anything that we couldn't get used to. Just having running water was a plus for that area, and we were sure to turn off the main valve after each use to make sure we conserved their supply.
I tend to enjoy living in my own room and having my own space, but I also was able to be flexible in situations that called for it; oftentimes you will have to share your private space with someone else, especially doing this kind of work, and trying to see the silver lining in those situations is always helpful. For me, it helped teach me valuable skills in respecting someone else's space, and learning when I needed some of my own, and to act on those feelings instead of letting them build. For instance, if I found myself getting annoyed at anyone in the group, or at my bedmate, then I would try and remove myself from that space and make my own, by either going for a walk, or going out onto the porch to read, etc. Sometimes it just takes a couple minutes to take a deep breath, allow yourself to feel whatever frustrations you have from tight living quarters, and then return to an issue (if there is one) to more evenly address it. The few minor issues I ran into were usually resolved that night and didn't happen again. Flexibility and adaptability are very important parts of living with anyone really, and knowing how to best treat yourself to space when those moments do arise. Communication is key in those times, and kindness and respect.
By Jenny Clark, AGA Intern, Masters Candidate, International Partnership for Service Learning and Leadership