Planning your Gap Year Airfare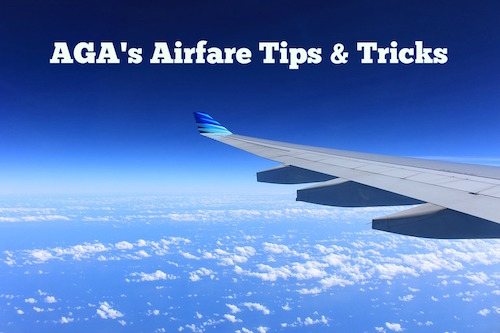 Airfare is one of the trickiest elements to building a strong Gap Year. Typically it's the priciest pieces in the equation of an any Gap Year, and still remains one of the most expensive considerations even on academic study abroads. That being said, there are a lot of ways to save money on your flight. We highly encourage you to start your airfare search early given not only the volatility of the market, but also the constant changes that the airline industries seem to be going through.
There are a lot of elements to consider when scoring a great airfare. Here are a few tips gleaned from years of banging our heads against the proverbial walls of travel:
Know your rights!
The Department of Transportation's Aviation Consumer Protection Division lays out certainties of compensation and expectations for travelers: http://www.dot.gov/airconsumer. If you feel like you're not getting this, mention it, and if necessary, never hesitate to talk to a supervisor, or threaten to report the airline. Note: this only is required for US airlines.
Sign up for air miles
These little things are priceless and within a few years you'll typically earn yourself at least one free domestic flight if not a free international one!
Keep track of your boarding passes
It's unfortunate, but many airlines will "lose" your information and make it more difficult to get your miles awarded.
Visa Check
If you're traveling to a place that requires a visa, don't forget to get one! The airline won't let you board your plane if you don't have the necessary visa! Find out if you need one by going to the State Department and checking out the entry requirements for your destination. In many cases you can get a visa-on-arrival, but just as often you'll need to send your passport to a Consulate General's Office (a foreign embassy) to get a visa stamp for entry.
Those who ask, receive
If your flight is changed, don't be afraid to ask for free things – hotel vouchers, meal vouchers, etc. Heck, the worst they can say is 'no.'
Do your research
Find out online what arrival dates should be cheapest. Keep in mind that weekends will be more expensive, and typically the cheapest day to fly is Wednesday. It's usually cheapest to book your flight approximately 6 weeks out . . . if not more. Roundtrip tickets will help cut the cost, as will flying early in the morning.
Buy local
Book your regional flights through local carriers. When traveling internationally this is particularly important to do and easily can save you hundreds of dollars simply by booking your flight (for example within Southeast Asia) from a Thai travel agent.
Discount companies aren't always the best bet
Booking your flight through a discount company – like Priceline, or Expedia, often will save some money but disallow the earning of airmiles, and very regularly will route you through some fairly exhausting itineraries. Remember, the times a traveler are most at risk are in transit, so showing up exhausted and not fully present is a recipe that simply compounds your exposure.
Check here
Don't forget to check the usual suspects: www.kayak.com, www.Cheapflights.com, and www.yapta.com for good deals.
Read the fine print
Be aware of the terms of your travel: change ticket fees, abilities to re-route, change dates, etc.
Keep composure
Changing your flight once you've started can sometimes be simple and sometimes complicated. But remember that when you're traveling in a foreign country it never helps to lose patience. Be polite, ask for a supervisor if needed, and be patient but assertive.
Student deals
Take advantage of student airfares if you're currently a student. www.statravel.com.
Do you have any additional tips for keeping airfare low? Help keep us updated!