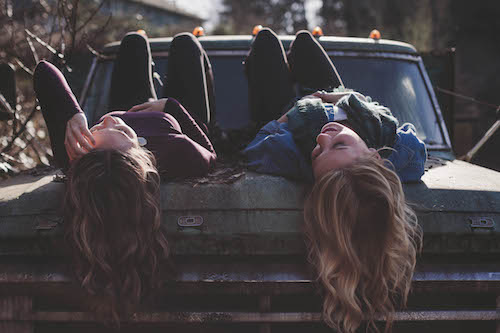 A nugget of wisdom from good ol' Lorelai Gilmore:
"Hey, don't you want to see it? Huh? The place where you'll be living and studying and developing very naïve but pretentious world views that will come crashing down the minute you graduate?"
Whether you like it or not, your newly-enlightened worldview is still in some-ways idealistic. This is not a bad thing. I repeat. This is not a bad thing. But the reality is that even with the insane number of amazing experiences you now have under your belt, you still have a lot to learn, and humility will be your BFF as you navigate your post-Gap Year relationships and conversations.
Here are my best tips for talking about your Gap Year without everyone's eyes glazing over.
How to NOT sound like an arrogant-annoyance
There's no quicker movement from "0 to annoyed" than to constantly barrage your family and friends with the amazing stories you had while experiencing a much-cooler life than basically everyone else you know. Want to bypass this intersection?
Don't be the one-upper
You know how you hear stories that instantly trigger memories about your own personal experiences? While it's great to relate to others and communicate your empathy through sharing them, it can unfortunately devolve into a game of "my experience is more hardXXcore than yours." Listen and react appropriately to others; don't just wait for your chance to interject with something that's all about YOU.
Cool it on the conversation policing, especially in public
Some of your friends and family might make comments that are inappropriate, inaccurate, or insensitive to other cultures. Instead of calling them out in the middle of a group, if you feel strongly about something they've said, take them aside independently and have a quick chat about it. Don't embarrass them in front of others – but don't let these false comments slide, either.
Integrate your experiences
If you are quick to tell others how much you support access to clean water or education equality in India, don't let these interests lie solely in memories. Walk the talk and merge your newfound interests with your life back home. People will be more interested in hearing about your intensive Swahili course in Tanzania if you're currently seeking opportunities in your home community (or heck, online) to continue developing that skill.
Mutual Interest is Key
While you were traipsing around the planet bringing new meaning to the word "globetrotter," your family and friends were also having important experiences. They might have been ordinary or they might have been extraordinary. Regardless, they matter, and you need to let them know that.
Ask them questions, too
It's called a dialogue, di-alogue, two. There's not much fun if you're the only one talking. Like a good ping pong match, toss questions back at them and inquire thoughtfully about their personal experiences while you were away.
Don't minimize their experiences
Sometimes the things we say come off as a lot more harsher than we intend. For instance, "I could never live in <insert hometown> again" OR "Everyone here is so complacent. My greatest fear is to not really LIVE life and to just do the same thing day-in, day-out." While you might feel all of these things, there are more sensitive (and less offensive) ways to say them. "I'm thankful for my experiences in <insert hometown>, but I want to try out living in other places" OR "One of my values is diversity of experience and staying active. This will manifest in my life in these ways: x, y, z."
Tell them you love them and are thankful for them
It can be a little scary to see your best friend or your kid or your sibling jaunt off around the world to experience so much. Wouldn't you feel a little insecure, too? Remind your closest friends and family that they matter to you, and that while you had a valuable experience striking off on your own, you couldn't wait to come back to see them, hug them, hear how they're doing, and start making more memories with them. Ah, love.
"How" to share versus "what" to share
We've already talked at length about how to answer the inevitable "How was it?" question after your travels. These tips are applicable even when responding to more detailed or specific questions. The secret is to know your audience and adapt your stories based on their expressed interest or their time availability.
The more conversations you have in the days, weeks, and yes – years – after your Gap Year will continuously illuminate new approaches to these discussions. You will stumble. You will annoy people. You will start to realize people avoid eye contact as they're passing you on their way to class (okay, maybe that is extreme). But without a sincere effort to keep trying and to keep learning – not to mention that humility I alluded to earlier 😉 – you might stagnate.
Be transparent with your friends and family, maybe even going so far as to explain to them that you want to talk about your Gap Year but you don't want to overwhelm or bore them with stories – asking them to be direct with you when you say something offensive offhand or are beating a dead horse.
Happy chatting and good luck!