Developing a Gap Year Savings Timeline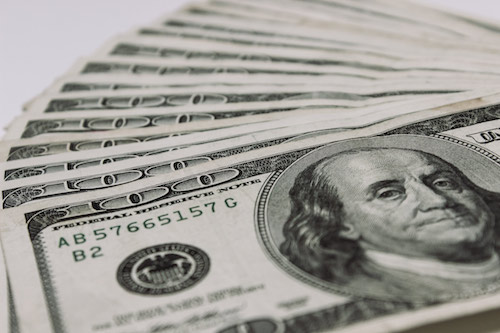 You're welcome. Here's the most useful gap year financial planning guide on the internet. Happy saving (and spending – you earned it!).
General Saving Tips For Your Gap Year
This is probably one of the biggest purchases of your life – yikes! It can be challenging for high school students to reach their gap year savings goals particularly because there is no materialistic, tangible, physical, immediate gain from all of your work. Saving money to buy "experiences" later sounds so lame.
But it isn't. We promise. Your future self will thank your current self for being so wallet savvy.
TIP #1: START PLANNING AS EARLY AS POSSIBLE
Since the GMO movement hasn't given us a true dollar tree quite yet, your best bet is to have time on your side as you plan for your gap year budget. We'll presume that you've already had the long talk with Mom and Dad and that they're supportive of your decision.
*Hopefully* they also agreed to commit some sum of money to help you offset the costs. You may've felt a little slighted at first with the actual amount, but you should actually feel excited to contribute to your own Gap Year prep in this way. It involves an extreme amount of investment (both financially and personally), so it will make your Gap Year feel all the sweeter when it comes to fruition, knowing you're really earned it!
One year or more ahead of you is essential to tackle the pending cost with ease.
TIP #2. YA GOTTA BUDGET
We all mean well when we plan out a budget, but without discipline, impulse control, diligent logging of your income and expenses, you might end up desperately selling your old Pokemon cards for quick cash. It doesn't have to be this way. You can use finite dollar amounts (such as $40 monthly) or a percentage of your paycheck (40% monthly) to start.
Track your expenditures to see where your hard-earned-cash is going – it's enlightening when you see the numbers, and you can use your new-found stats to make more informed decisions about where your money goes.
TIP #3. TELL EVERYONE YOUR GOALS!
It doesn't have to be in a "Look at me, look at me!" way or with a guilt-ridden undertone a la Eeyore ("I guess I'll never have enough money for a gap year, rich Uncle Kevin…"). But, much like weight loss, the more people are aware of your current efforts, the more accountability you have towards them. Further, this group of people can likewise become a huge source of support – it's great to surround yourself with friends who talk you out of buying that new NBA ball cap, even if you really want it.
TIP #4. GET MOTIVATED CREATIVELY
Add photos to your walls, bookmark favorite websites, pin EVERYTHING. Surround yourself with quotes, images, art that inspires wanderlust. Declare a savings mantra, write it on a piece of paper, and stick it in your wallet (right next to your debit card or dollar bills). Hang a photo from your car's rearview mirror. Decorate your school books with well-filtered photos that make you giddy to travel.
You've got this.
The Gap Year Savings Timeline
| | | |
| --- | --- | --- |
| COUNTDOWN | BENCH MARK | WHAT, HOW, WHY? |
| One year before departure | $0 | Ball park OVER-estimate your total cost. With eyes on the prize, get to work on pinching pennies. |
| 11 months before departure | $1000 | Empty all of your coat pockets, cash all of your birthday checks, and start taking at least $100 from your weekly paycheck to devote to saving. |
| 10 months before departure | $2000 | Your commitment is waning – start getting creative. Build the online fundraiser and push it to your networks. |
| 9 months before departure | $2500 | It's the holiday season. Buy your family some nice gifts. Don't stress about savings, but don't drink too many offensive holiday lattes, either. |
| 8 months before departure | $4000 | Whoohoo! Your aunts and uncles pulled through with holiday gifts, so you were able to up your savings this month. |
| 7 months before departure | $4500 | You had way more, but you had to buy a passport and apply for your visa. Rats! Expenses! |
| 6 months before departure | $5200 | You're losing steam again. Is it September yet? What's the deal? You just wanna hang with your friends and buy that cute top. Remember: delayed gratification > instant gratification. |
| 5 months before departure | $6000 | You got a new side job that can be done remotely, so you're excited for the extra cash that's more on your terms. Way to hustle! |
| 4 months before departure | $5800 | You saved a bunch, but you also bought your flights this month. No shame in splurging on the direct route. |
| 3 months before departure | $7500 | It's getting serious. Summer is in full swing, and your part-time gig turned to 40 hours/week. You get really good at suggesting fun *free* activities for you and your friends to pass the summer nights. You pay a portion of your program fees. |
| 2 months before departure | $8300 | You started buying some gnarly new equipment for the trip – cool Osprey pack! |
| 1 month before departure | $9000 | The expenditures on equipment continue to fly off the shelf, but you're a pro-saver now so you don't sweat it. You've put in your two weeks notice and are excited to end the summer in style. |
| 2 weeks before departure | $8800 | No work + final hang outs with friends + those pesky, last minute items to stuff in your backpack seriously add up. |
| 1 week before departure | $5000 | You just had to splurge on your favorite pizza and buy the Adele CD. We understand. You also paid off a significant chunk of your program fees – good for you! – and now have a fat wad of 5000 to your name to take abroad. |
Tools
Saving money and planning ahead for a major expense like a gap year is no joke. It takes time, commitment, thought, persistence, and some sacrifice. Luckily for you, there are many online tools available (hat tip to the internet!) to help you stay on track and reach your goals.
FundMyTravel is an online crowd-funding resource specifically designed to help travelers lessen the financial burdens of their work abroad. You can get friends and family (and even a technologically-savvy Grandma) to contribute funds to your campaign. You can also use an "Adventure Registry" so folks can opt to buy your backpack, fund your visa, etc. Neat!
Mint.com Ah, Mint. This web-based financial tool can also be downloaded as an app, and streamlines access to multiple bank accounts, as well as debit and credit cards. It's helpful to have the info easily accessible in your pocket, so you can double check your balance before splurging on those summer music festival tickets.
Stay on a Budget App A great app that automatically tracks what you're spending and where, taking the legwork out of annoying ratios or percentages. Again: access from your smart phone (which we have a hunch you use daily) helps this tool transition seamlessly into your daily-spending-life.
There you have it. Everything you need to know to give your poor spending habits the 1-2-punch. Find your green and later find your passion as you travel the world on your gap year.
Photo Credit: Andrew Pons