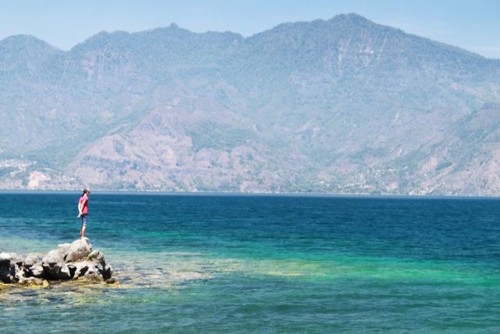 As a Gap Year counselor, I work closely with students to design meaningful plans for their time out. More often than not, a student's parents are also by their side to encourage and inspire the planning process. Parents of gappers see the value in travel and experiential learning but also want to make sure their child will be safe on their Gap Year. If you are currently helping your child through the planning process, consider these tips from seasoned Gap Year parents who have been there!
1. Start Thinking About a Gap Year Early
In my experience, the sooner a student starts brainstorming their Gap Year plans, the more deliberate the ultimate itinerary turns out to be. Gap Year parent Jane suggests, "Try to get started on the exploration of opportunities early in the process and be open-minded. A variety of experiences is valuable…these kids are still young – why not take advantage of a few opportunities?"
An excellent entry point to Gap Year research is visiting a Gap Year fair or starting to look at AGA accredited opportunities online.
2. Good Communication is Essential
Start planning by getting everyone on the same page. Gap Year parent Debra offers this advice: "Take both your child's and your wants and desires into consideration. As parents, we were not comfortable with some programs, but our advisor was able to find programs that made everyone happy. There are so many programs out there, you can find something that works for every member of the family."
"It's all about balance," explains Diann, whose son planned a Spanish-immersion gap year that took him to Spain and South America. She encourages families to set expectations together regarding accountability and decision-making. It helps for parents to set parameters at the outset of planning and then allow their child the freedom to tackle the decision-making within a framework that's comfortable for everyone.
3. Research is Key
Planning a gap year is a research undertaking for the student and their family. After her daughter's Gap Year, Jessica offers, "I think you have to figure out what your goals are and then hang in there until you find the right programs. There are so many choices. It can be overwhelming, but with help you can narrow in on the right ones. I also think it was extremely helpful to speak with the program directors. In one case we decided not to pursue a program that had looked like a good fit from their materials."
4. Ensure Your Child Has Skin in the Game
"Travel AND work," says Hilary, who watched her son save money to travel to Asia and Belize. "Make sure the student earns something to help pay for at least some of the experience." Students can save for their gap time in a variety of ways, including crowd-funding, working or leveraging a special skill. Wendy's daughter knitted scarves for three months to fund a trip to Thailand. She believes the experience was fantastic for her daughter, including the fact that she earned the experience. "The three months in Thailand was a life changer for my daughter," Wendy says. "It showed her that she was strong and resilient, that the world is full of kind people… She met lots of people from many different countries and made some lasting friendships."
5. Help Your Child Mentally and Physically Prepare for Their Travels
Preparing for a Gap Year is a delicate balance of preparation and learning to roll with the inevitable bumps in the road. Perrin's son spent much of his Gap Year traveling independently in Argentina. She thinks it's important for fellow parents to realize, "Nothing is ever going to be exactly what you anticipate – but it will all be a great experience."
Other parents urge successors to, "Apply for a South African visa asap," or "Don't forget the vaccinations!" In other words, create a check-list of the things that need to happen in the months leading up to departure. The physical tasks of preparing for a trip have the added benefit of mentally preparing a student for leaving.
6. Step Back and Let the Magic Happen
It's hard to watch your child struggle on their Gap Year, but allowing your child to problem solve is all part of the experience. Gap Year parent Betsy explains, "Let your child get into and out of her/his own trouble. [Gaining] confidence that they can survive travel misfortunes is part of the beauty of a gap year."
Genevieve feels the same way: "Parents need to let their kids go…I didn't hear from my son during the time he was living in his Fijian village, but I thought it was important to let him have the space and make his own way."
7. Witness the Evolution
We love hearing from parents about the changes they witness in their own children over the course of a Gap Year. Here are some highlights from recent parents of Gap Year students:
"She is more responsible at taking care of her affairs…managing travel, money and logistics. She is more empathetic, and sincerely appreciates the opportunities she's had in her life."
"[My daughter] has a deeper sense of calm and maturity after this past year. She developed an even better sense of herself and it appears to have given the time to reflect and further define her own personal value system. She also has a 'lightness of being' that I would ascertain comes with the observations she made on her own humanity relative to our earth and how other people live. She has developed a serious desire to have impact which I am sure will redirect her life path from here forward."
"He knows now that the world is big and diverse. It's not so abstract anymore. He jumped out of his comfort zone and came to know himself better–and to experience a confidence in his ability to navigate life."
"This experience was life changing for [my daughter]. She left as a recent high school graduate who waited to be told what to do and returned as a young woman who is confident in her abilities like never before. It helped her find her passion for teaching, for travel and for meeting people of all walks of life."
8. Parting Words
Perhaps Gap Year parent Ann says it best: "You will never regret giving your child this opportunity."
Julia Rogers is the Founder of EnRoute Consulting, a firm dedicated to providing mentorship and logistical support for young people who take gap years before or during college. Over the past ten years, Julia has become an expert in her field by advising hundreds of students, as well as personally visiting gap year programs in over twenty countries. She works with high schools, colleges, service-learning organizations, non-profits, government entities and families to further experiential education and ethical travel.